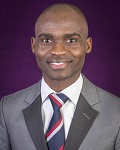 Working together for a safer, and stronger future.
As my term as president of the North Carolina ASSP Chapter progresses, I am excited at the opportunity to work with our members and other stakeholders within and outside our local geographical area. I, and the other members of the Executive Committee, are honored to represent you while continuing to make improvements to meet your professional needs.
I cannot think of a better phrase that describes our roles as safety professionals in the current climate than the very motto of ASSP – "Working together for a safer, and stronger future."
From navigating through the pandemic to dealing with new challenges arising from an evolving work environment, our responsibilities are becoming increasingly demanding. But realizing that what we do contributes to building a safer and stronger future, we continue to do our best in making a difference each day.
As your local chapter, we want to make sure we are providing the needed resources to help you successfully navigate through these challenging times. One of our goals this year is to increase member engagement as much as we can. Consequently, the Executive Committee (EC) is administering a member survey this quarter to hear from you on ways to better serve you. A link to this short, four-minute survey, is included in this newsletter.
https://updates0698.survey.fm/member-engagement-survey-assp-nc
We also want to encourage you to take advantage of the chapter's monthly technical meetings. We strive to make the meetings as interactive as possible, reflecting on contemporary OSH issues while also satisfying your technical needs. If you missed our August meeting on Office Ergonomics and the Hybrid Work Environments, be sure to check out the chapter's website for an archived recording. For October's technical meeting, Trish Ennis, ASSP past president, will talk on "The Role of Safety in Reputation Risk Management."
Thank you for being an integral part of our community and for all you do in advancing the health and safety of workers.
The Executive Committee looks forward to working with you. When we come together, work together and support one another, we can achieve many great things, including making the world of work safer for all.
Ogaga Tebehaevu, MS, CIH, CSP