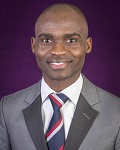 Physically Back and Stronger
The Chapter held its first in-person meeting last month, after more than 2 years of meeting virtually. It was an ecstatic feeling for members to physically connect with one another. What is even more spectacular was the pleasure of having our own Executive Committee (EC) member and Student Affairs Chair, Dr. Mike Behm, come to speak to us on a special topic that offered contemporary views of safety science in what was titled "Safety Function Metamorphosis".
A key takeaway for me from last month's meeting is the bond that connects us. This bond is so strong that despite being virtual for a long time, our members remain committed. I don't have any doubt that our mission is what binds us together. We are blessed to be surrounded by creative people, people who are committed to improving the health and well-being of the workforce in our community; people who are willing to step up when asked.
Speaking of our mission, this month of April, specifically April 28, is Workers' Memorial Day – a day of remembrance for workers killed, disabled, or injured on the job. According to the US Bureau of Labor Statistics, there were 5,190 fatal work injuries recorded in the United States in 2021, an 8.9% increase from 4,764 in 2020. This stat is a reminder that there is still a long way to go in eliminating preventable deaths in the workplace. You would appreciate why for more than six decades, the ASSP North Carolina Chapter continues to build a framework that provides knowledge, resources, and a network that empowers its members in the mission of promoting workplace safety and health.
There are other updates that I would like to share with you. The chapter election will be held on April 13 during the monthly technical meeting. The slate of candidates for election has been up on the chapter website since last month. The EC is interested in your participation in the election. In addition, the EC has some open positions for the next chapter year. If you are interested in being a part of the EC, please contact the Membership Chair.
Depending on when you are reading this message, we invite you to join our technical presentation this Month. Amy Robertson, CEO and Founder of Soul Advantage will be speaking on Mental Health in the Workplace. You may also view the archived recording on our website. Next month's meeting (May 11) will feature "Safety Legality Versus Liability" by Tom Farr, Partner at Nelson Mullins Law Firm. See the chapter event page for more information and registration details.
In conclusion, I want to thank you all for your support of safety and health in all its ramification. I also want to thank you all for supporting ASSP's goal. Your support of ASSP allows us to continue to fulfill our mission and serve the over 430 members of our community each year.
Sincerely,
Ogaga Tebehaevu, MS, CIH, CSP