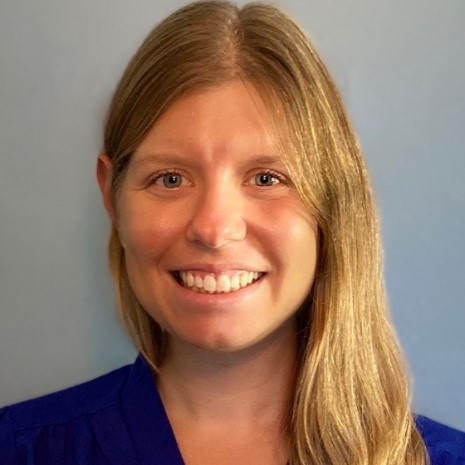 Elyse Barrick, CSP, WELL AP
Senior Manager & Site Lead EHS
Biogen Gene Therapy
Elyse Barrick is the Senior Manager, EHS and site lead for Biogen's Gene Therapy facility currently under construction in Research Triangle Park, NC. After graduating with her BS in Environmental Sciences from the University of Toledo, she started her environmental career serving as a Peace Corps volunteer in La Paz Centro, Nicaragua teaching community environmental programs for 3-6 grade students. Upon returning to the US, she moved to Raleigh/Durham to start her first career position as an environmental scientist for an environmental and engineering consulting firm, mostly focused water and wastewater projects for the US government.
While leaving her office building one afternoon, the EHS project manager stopped her to correct an at-risk action of walking down the stairs while texting (her friend about Taylor Swift!) and it started a career shift that led her into the full environmental, health, and safety field. A few short weeks later, the same project manager reached out about the opportunity to provide some EHS consulting for a client in Santiago, Chile. Over the next few years, she supported the start-up of the client's data center facility, built out their ISO 14001 and OSHAS 18001 (now ISO 45001) management structure, and developing a solid understanding of South American EHS regulations.
As Elyse realized that she thoroughly enjoyed the field of Environmental, Health, and Safety, she decided to transition back to a US based role working as on-site EHS specialist for Valspar and later a Sr. EHS Specialist for BioMerieux. While at BioMerieux, she was able to focus on manufacturing and laboratory safety, process improvements through LEAN and obtained her Certified Safety Professional designation. Most recently, she was the Safety Program Manager at RTI International and led achievement of the WELL Health and Safety Certification as response to the Covid-19 pandemic. Currently, she is focused on the start-up of operations at Biogen's Gene Therapy facility, with a strong focus on building a sustainable management system, biological and recombinant DNA safety programs, and regulatory compliance programs.
Outside of work, she loves being outside, traveling with her husband, and learning about all types of construction equipment with her 3-year-old son. She loves to help her colleagues achieve success by providing them a safe and productive workplace and committing to Biogen's patients by providing them with safe and quality treatments.