It is our pleasure to recognize Dr. Mike Behm as the 2022 Safety Professional of the Year (SPY) for the ASSP North Carolina Chapter. Dr. Behm is a Professor in the Occupational Safety Program at East Carolina University. He holds a PhD in Public Health from Oregon State University and is a Certified Safety Professional. Mike is an invaluable resource to the ASSP NC Chapter as well as the Occupational Safety and Health profession. His research interests cut across risk assessment, safe design, construction safety, etc. for which he has earned both national and international recognition, while also serving in various scientific boards.
At the local level, Mike has been instrumental to the success of the ASSP Student Section at East Carolina University. Certainly, he is well-deserving of this award. His words: "I'm very thankful and appreciative to win the Carolina Chapter SPY Award. It's nice to be recognized by your peers. In the past year, East Carolina University's Master of Science program received a 6-year renewal of its ABET accreditation. We are extremely proud of this accomplishment. Our Advisory Board, students, alumni, and especially my ECU colleague Dylan Hardison have made many valuable contributions to continually improve our Program. This is especially true of the new students entering the profession to which we owe much appreciation to the Carolina Chapter for all their support over the years. Hopefully this award also means my peers have recognized a sustained contribution over the years in research and education. Advancing our profession and practice through research contributions is much needed in my view."
Congratulations again to Mike!
Craig Ellis is the owner and principal of Giarc Consulting. He has over 40 years of professional technical and safety consulting experience in many diverse domestic and international industries.
Craig has a degree in Civil Engineering from Tennessee Tech University and a Master's in Business Administration from Regis University. He is also a Professional Engineer in North Carolina, Certified Safety Professional, and an OSHA Authorized Trainer – Construction.
His affiliations include the American Society of Safety Professionals (ASSP); Member of NC Chapter of ASSP; Former chairperson of industry group, Southeastern Electric Exchange, Accident Prevention Section, Atlanta, GA and Former national industry committee member – Edison Electric Institute Recordkeeping Committee, Washington DC.
Craig has authored numerous publications in professional technical proceedings, technical magazines and with governmental agencies.
His path to becoming a safety professional began when he was performing environmental impact analyses in his first job as a civil engineer doing civil designs for transmission line location projects. From that role he migrated to industrial safety for industrial operations. Those experiences led him to other roles and positions that drew upon his technical background. His roles have ranged from being a technical expert, project and program management and safety management.
Being a safety professional has been a rewarding career and he encourages other professionals to be open to the many opportunities that a technical background affords them.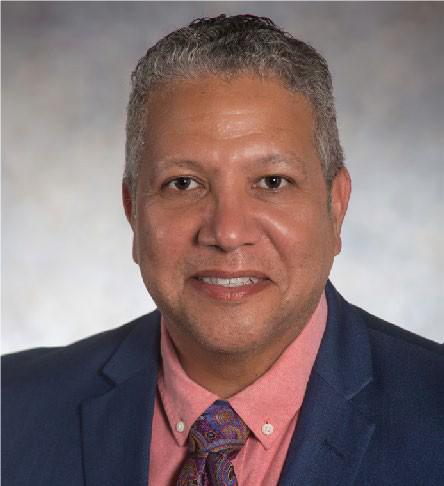 Jose Colon-Diaz
EHS & Quality Manager
McFarland Construction U.S.
Jose is an experienced safety leader, military veteran, and project manager. During his tenure, Jose has focused his attention on understanding the cost of military construction, as well as the latest techniques in practice, as a Construction Manager, Project Manager, and Superintendent. His leadership helped complete over $60M of military business located across the region for projects ranging from large, out-of-the-ground projects to small, interior upfits.
As a veteran, Jose understands the military community concept and how to develop innovative procedures and processes that best fit into project solutions – while ensuring the clients' requirements were clearly understood – combining all the construction knowledge needed to assemble the nuts and bolts of a project from conception to completion.
Jose has a wide range of education and experience in the areas of special operations and warfare, civil affairs, power generation, and emergency management. He also has training and certifications in hazardous material handling, USACE construction management, welding, OSHA 30-hour, First-aid/CPR/AED instructor, erosion prevention and sediment control, as well as health care safety management.
Jose believes that difference can be made when we put ourselves in a position to help others.
Joshua Adams, CSP
Senior Safety Manager
Smithfield
Joshua is an experienced safety professional that has worked his way from entry-level laborer to a Senior Safety Manager. Originally starting out in the Gulf Coast of Louisiana, Joshua has 16 years in the grain industry, 13 in safety. He has held safety responsibilities at Consolidated Grain and Barge, Inc. (based out of Indiana with 13 locations in 4 states), Zen-Noh Grain Corporation (based in Louisiana at one export facility), and now Smithfield (based out of North Carolina with 33 locations in 8 states). After a few years into his responsibilities as a Safety Associate, he realized that safety was his passion and decided to seek accreditation. He earned his Associate Degree in Occupational Safety and Health Technology from Odessa College, his Bachelor of Applied Science in Occupation Safety and Health Technology from Eastern Kentucky University (EKU), and a Certified Safety Professional (CSP) designation through the Board of Certified Safety Professionals.
Recently, Joshua has relocated to North Carolina with Cara, his wife of 11 years, their son Greyson who turns 4 this month, and Spirit their puppy. Through their support, encouragement, and belief in him, Joshua was determined to and capable of going to school while having a family.
Although his path to safety was not direct, it was the best way for him to learn the ins and outs of the correct safety mindset. Both good and bad experiences have molded Joshua's approach to keeping employees safe. He believes that the more empowered employees are to make decisions and think like their Safety Team, the more successful the culture will be. This is achieved through a personal approach through coaching, training, and employee engagement.